P-117 Phoenix High Intensity Patrol Boat
P-117 Phoenix High Intensity Patrol Boat for Stormworks: Build and Rescue
Here you can download P-117 Phoenix High Intensity Patrol Boat mod for Stormworks: Build and Rescue. Its full description is below. Visit our blog to find out how to install the mod.
The content of the mod has been downloaded and repackaged without any changes from the original source. We are not responsible for technical problems of the game or mod, but we guarantee the absence of malicious code
Author: Sebastiaz | BluFFeR
Size (unpacked): 8.045 MB
Updated: 18 Dec, 2021 @ 5:12am
Tags: Vehicle Rescue Sea Exploration Delivery Technical Creative Fire Mechanical Advanced Multi-vehicle Wip v1.3.17


MAKE SURE TO READ THE NOTES BELOW

The fictional P-117 "Phoenix" is a High Intensity Combat Patrol Vessel/Fast Attack Craft capable of relatively high speed assaults on littoral targets. It comes with 1 Bofors Cannon, 1 30mm DS30M, 1 .50cal and 2 U-MLRS Rocket Pods for high area-of-effect attacks on targets. It has several different features to allow it to appeal to a number of tasks such as fishery protection, firefighting and rescue as well as fast attack.


How to use the weapons: [READ ME]
https://www.youtube.com/watch?v=VhBYsdxxftk VIDEO TUTORIAL
(On forward panels in bridge, using the Bofors/DS30M)
- Click "Monitor"
- Use monitor controls to find and laser designate a target
- Manually move the gun so the sensor detects the laser, (the gun will then automatically aim at the laser point)
- Click "Master Arm"
- Hold "Fire"
(On backwards panel in bridge, at the rear, using the U-MLRS)
- Click "Radar Tracking"
- Click "Main Systems Bat", this will give you radar JTAC guidance
- Point the boat at a designated target
- Click "U-MLRS Master Arm", the rocket pods will aim at a nearby target in front.
- Click "U-MLRS Barrage/Fire".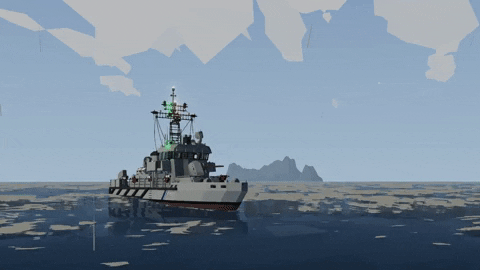 Features: [READ ME]
- 1 57mm Bofors
- 1 30mm DS30M
- 1 .50cal
- 2 U-MLRS
- Partially full interior
- Radar guided laser designator (JTAC)
- Laser Turret guidance
- Automatic heating
- Long range (1 hour of fuel).
Notes [READ ME]:
- The boat cannot self-right, therefore it is crucial you handle it with care in rough weather.
Credits:
- NJ for the front displays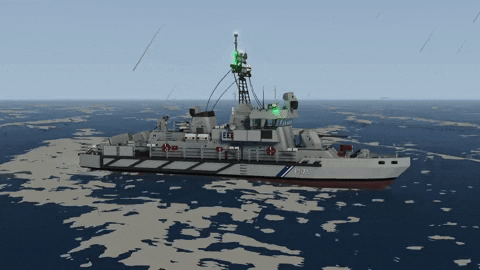 Download
---